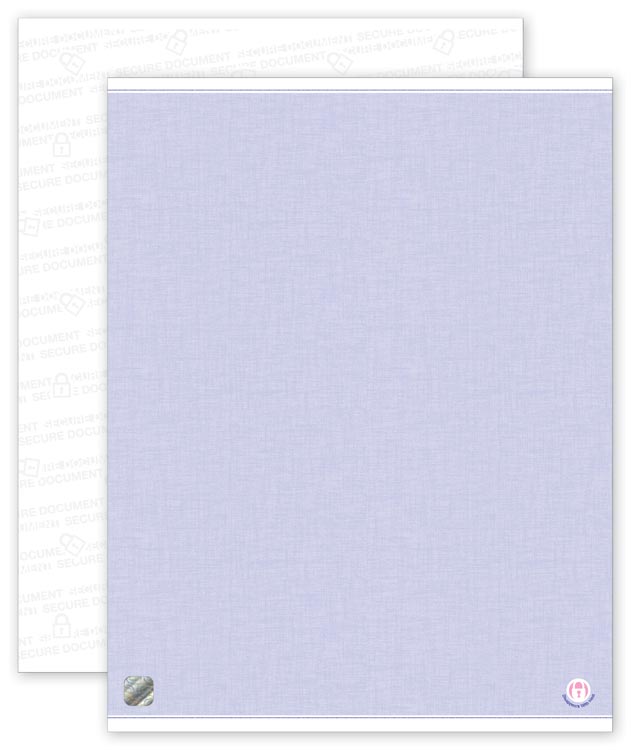 SSPH01 High Security Paper Blue Blank Sheets 8 1/2 x 11" QTY 200
SSPH01 High Security Paper Blue Blank Sheets
Size:
8 1/2 x 11"

High-security paper stock safeguards confidential business, legal, healthcare and personal information by preventing unauthorized copying of documents.
Protect confidential and sensitive information by printing originals on high security stock with built-in anti-reproduction and tamper-detection features.
Visible state-of-the-art hologram and embedded fibers send an immediate message: This document is private and confidential!
Warning Box. Security features listed on back of paper deter fraud, unauthorized photocopying and tampering.

Fluorescent Fibers. Fibers in the paper are visible under fluorescent light.

True Watermark. Visible only when held up to a light and cannot be photocopied. Beware if it isn't there!

Toner Adhesion Properties. Paper chemistry creates a bond between laser toner and paper fibers -- alteration attempts result in visible paper damage.

Chemical Sensitive Paper. Stains or spots appear if chemical alterations are attempted; instantly indicating tampering.

Microprint. If photocopied, 1-point type in border appears as a dotted line.

Thermochromic (heat sensitive) ink. Used on the lock icon; when rubbed between thumb and forefinger, or breathed upon, the image will fade and then return.

Void Pantograph. If photocopied or scanned, the word "VOID" appears prominently across the document.

Visible fibers: Blue fibers randomly embedded in both sides of the paper make duplication difficult.

Foil hologram: Optically multidimensional (3D) foil seal fused to the paper stock cannot be photocopied.

25# professional letterhead stock.

Blue Only

Stock high-security paper is shrinkwrapped in packs of 200.
---
---
More from this collection