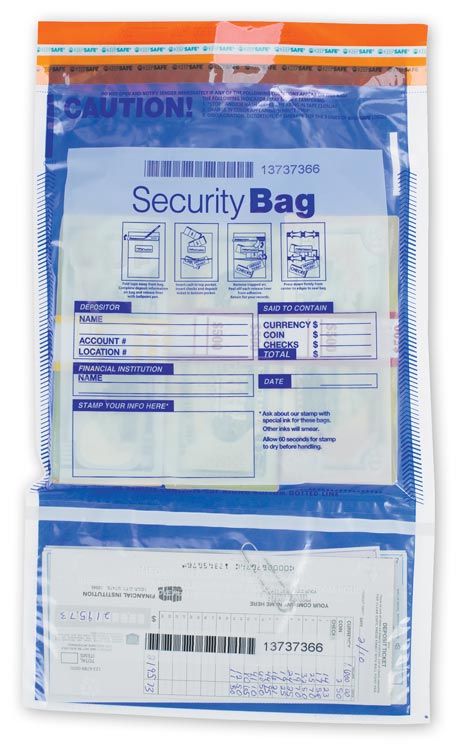 53858 Dual Pocket Deposit Bag Clear Front Opaque Back - 100 BAGS
53858 Dual Pocket Deposit Bag Clear Front Opaque Back
Size:
9 1/2 x 15"
Make deposits after-hours, and protect deposits from theft with heavy duty bags that meet all Federal Reserve guidelines!
Tamper-evident tape closures and additional features protect against theft or alteration.

Dual pockets keep cash and checks seperate.
Use a security Bag Endorsement Stamp (D2037) to imprint your name/banking information easily and accurately.
Clear front provides an easy view of bag's contents.
Stronger Material: We've updated these best-selling deposit bags with stronger yet thinner plastic and a new look.
New Ultra-level Tamper-Evident Closure: Indicates our highest degree of security against all mechanical (hand-pulling), chemical (solvents), thermal (hot air and freezer spray) and moisture tampering attempts.
Easy-to-Understand Pictorial Instuctions: Increase deposit accuracy and reduce banking transaction fees.
Dual Pocket High Security Deposit Bags: Made from #4 recyclable plastic with clear front to view contents and opaque back to hide contents. Top-over-bottom pockets separate cash from checks.
Unique Barcoding and Numbering: Located on bag and receipt; make processing easier while reducing risk of errors.
Tracking Receipt: Use release liner receipt for convenient tracking and deposit identification.

Handy. Tear-off receipt included.

100 per pack
---
---
More from this collection