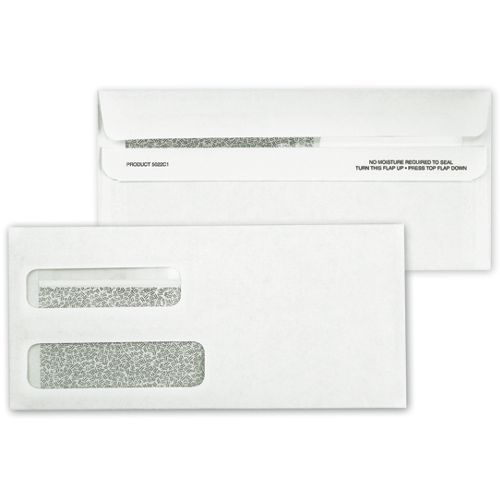 5022C.1 Double Window Confidential Self Seal Envelope 9 x 4 1/8" QTY 100
5022C Double Window Confidential Self Seal Envelope
Size:
 

9 x 4 1/8"
Make doing business more efficient with Double Window Confidential Self Seal Envelopes .
No addressing needed!
Just fold, insert materials and mail.
The double window design clearly shows return and destination addresses.


100 Envelopes

Confidential pattern keeps contents from showing through.

Top window size is 3 1/2" x 7/8"

Window alignment: 7/8" from top  3/8" from left

Bottom window size is 4" x 1"

Window alignment:  1/2" from bottom 3/8" from left   13/16" between windows


Self-seal saves time and makes mailing easier.

Adhesive has 6-12 month shelf life.
---
---
More from this collection